Home
Our company has operated in the marked since 1994. Since the beginning it has dealt with selling of floor covering. In the beginning it were rugs and carpets, later we extended our offer to include sheet flooring, PVC flooring, floor panel ling and other types of accessories, e.g. skirting boards, glues, cleansing agents and floor protective agents, bathroom sets and carpets, curtain rods, wallpapers etc.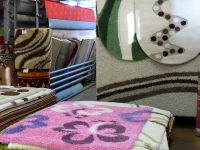 In 2001 we started production of stair covers. With developing private house building Poles decide to buy winding stairs to their houses. It is hard or impossible to cover the stairs with a traditional rug attached with special rods. It extended stair cover market. Our company deals mainly with retailing, therefore we sell our covers directly to end users. It is profitable for our customers: unrivalled prices and especially a big order flexibility. Our customers can choose not only patterns or colours, but also size and shape of covers. They can also buy some more rugs or oval carpets of the same material.

In 2008 we extended our activity with professional flooring installation in public buildings as well as in private houses. We install fitted carpets, PVC flooring, floor paneling and ready-made parquet flooring such as the Barlinek board type of flooring.

We encourage you to take advantage of our offer.