Our company offers professional installation of fitted carpets, PVC flooring, flooring panels and also the Barlinek board type of floor.

A wide range of our services includes:
Base preparation,
Repair of damaged cement screed (abrasion, cracks, gap filling)
Self-levelling compound
Cutting and pasting of sheet flooring (possibility of creating individual colour compositions)
Welding of parts (PVC flooring)
Installation of skirting boards
We offer object sheet flooring of GAMRAT and TARKETT.
For base preparation we use products of UZIN and MUREXIN.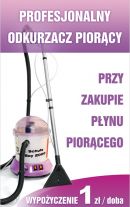 Protection and clearing of PVC flooring, fitted carpets and carpets.
We offer services connected with cleaning and protection of elastic PVC flooring using acrylic or polyurethane agents to maintain sheet flooring of DR SCHUTZ.
We hire a special wash vacuum cleaner which
cleans rugs and carpets.
Besides, we provide edging of carpets and rugs ("carpet altering"), size and shape fitting to meet our customer's need.